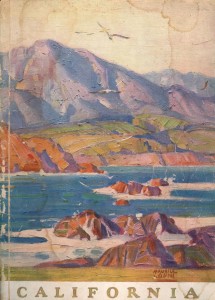 The O'Donnell House at The Willows has a history of its own. Finished by January, 1925, it was the winter home of oilman Thomas O'Donnell and his wife, D. Winnifred Willis Jenny. It was originally known as Ojo del Desierto (Eye of the Desert).
Restored by The Willows Historic Palm Springs Inn, the combination of the two places makes for an elegant place to hold special events, such as weddings, receptions, galas, and more in Palm Springs, California.
The Southern Pacific Company published "A Picture Journey Through California", which has "a series of sixty-four photographs of California's principal spots of scenic, romantic and historic interest".
The book has a photo of Palm Springs in black-and-white that is taken from The O'Donnell House's property. It shows palm trees and a view of the Coachella Valley with mountains in the background.
You can see the photo from the last page of this PDF.