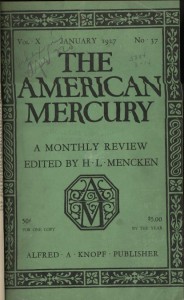 Samuel Untermyer purchased The Willows Historic Palm Springs Inn from Nella Mead in the late 1920s. Untermyer was a famous lawyer and according to the article "Front Page Stuff" in The American Mercury in January 1927, "There are probably more clippings about him in the morgues of the New York newspapers than about any other private citizen, so-called, save Harry K. Thaw."
The write-up says of Untermyer that "he had become a shining defender of the Plain People against the machinations of wealth and power." This 10-page article describes Untermyer before he owned the luxurious getaway in Palm Springs, California, but as his national fame was waning (to a certain extent). Not only does the article depict what Untermyer was positively known for, but it portrays reasons that he was disliked.
To discover what this previous owner of The Willows was loved and despised for, read the article by Henry F. Pringle here as a PDF. You can also find out about The American Mercury (founded by H. L. Mencken in 1924) here.