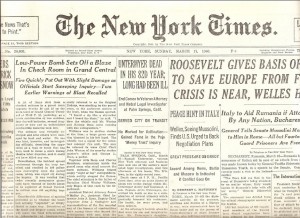 As noted in previous posts, Samuel Untermyer was one of the first people to own (what is now) The Willows Historic Palm Springs Inn. Untermyer purchased it in the late 1920s.
On Saturday, March 16th, 1940, Untermyer "died… at his home, The Willows, in his eighty-second year", according to the March 17th "Special" to The New York Times.
According to the article, "Mr. Untermyer had spent the last two months at The Willows. He acquired the house about ten years ago and recently had come here annually for the Winter in consideration of his health".
The article goes on to give an extensive description of Untermyer's life including information on his receiving a record fee, his "fight against Hitler policy", "his work in transit case", and more.
To read the entire article in The New York Times, you can view the PDF here.