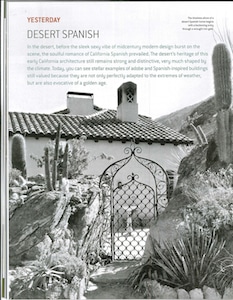 In the desert, before the sleek sexy vibe of midcentury modern design burst on the scene, the soulful romance of California Spanish prevailed. The desert's heritage of this early California architecture still remains strong and distinctive, very much shaped by the climate. Today, you can see stellar examples of adobe and Spanish-inspired buildings still valued because they are not only perfectly adapted to the extremes of weather, but are also evocative of a golden age.
In 1774, two years before the American Revolution, Spanish explorer Juan Bautista de Anza trekked through the mountains immediately to the west of the Coachella Valley, seeking to forge an easy trail to California's coast. But more than a century would pass before white settlers would arrive in the desert below, settling and building simple board houses or pitching tents on wooden floors.
Replacing these shacks in the 1920s, Spanish Colonial Revival style-a substantial architecture, an architecture of concrete and adobe brick-gradually took root as it became fashionable, and as more affluent wintering visitors arrived.
But the catalyst that really made the Spanish Colonial Revival popular was the Panama-California Exposition of 1915, which celebrated the opening of the Panama Canal. Set in San Diego's Balboa Park, where the historic structures remain today, the exposition was the genesis of this style in California, superseding the initial Hispanic influence exerted by California's then-decaying mission structures and remaining early California hacienda homes.
View full article…