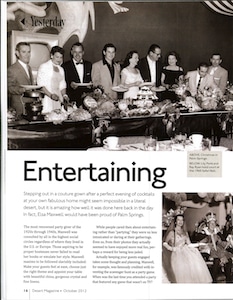 Stepping out in a couture gown after a perfect evening of cocktails at your own fabulous home might seem impossible in a literal desert, but it is amazing how well it was done here back in the day. In fact, Elsa Maxwell would have been proud of Palm Springs.
The most renowned party giver of the 1920s through 1940s, Maxwell was consulted by all in the highest social circles regardless of where they lived in the U.S. or Europe. Those aspiring to be proper hostesses never failed to read her books or emulate her style. Maxwell maxims to be followed slavishly included: Make your guests feel at ease, choose just the right theme and appoint your table with beautiful china, gorgeous crystal and fine linens.
While people cared then about entertaining rather than "partying," they were no less intoxicated or daring at their gatherings. Even so, from their photos they actually seemed to have enjoyed more real fun, perhaps a reward for being less jaded.
Actually keeping your guests engaged takes some thought and planning. Maxwell, for example, was famously credited with inventing the scavenger hunt as a party game. When was the last time you attended a party that featured a game that wasn't on TV?
View full article…