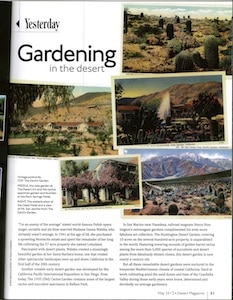 "I'm an enemy of the average" stated world-famous Polish opera singer, socialite and six-time-married Madame Ganna Walska, who certainly wasn't average. In 1941 at the age of 58, she purchased a sprawling Montecito estate and spend the remainder of her long life cultivating the 37-acre property named Lotusland.
Fascinated with desert plants, Walska created a stunningly beautiful garden at her Santa Barbara home, one that rivaled other spectacular landscapes seen up and down California in the first half of the 20th century.
Another notable early desert garden was developed for the California Pacific International Exposition in San Diego. Even today, The 1935 (Old) Cactus Garden contains some of the largest cactus and succulent specimens in Balboa Park.
In San Marino near Pasadena, railroad magnate Henry Huntington's extravagant gardens complimented his even more fabulous art collection. The Huntington Desert Garden, covering 10 acres on the several-hundred-acre property, is unparalleled in the world. Featuring towering mounds of golden barrel cactus among the more than 5,000 species of succulents and desert plants from fabulously distant climes, this desert garden is now nearly a century old.
But all these remarkable desert gardens were nurtured in the temperate Mediterranean climate of coastal California. Hard at work cultivating amid the sand dunes and heat of the Coachella Valley during those early years were brave, determined and decidedly un-average gardeners.
View full article…