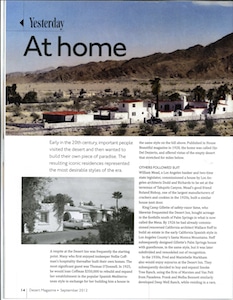 Early in the 20th century, important people visited the desert and then wanted to build their own piece of paradise. The resulting iconic residences represented the most desirable styles of the era.
A respite at the Desert Inn was frequently the starting point. many who first enjoyed innkeeper Nellie Coffman's hospitality thereafter built their own homes. The most significant guest was Thomas O'Donnell. In 1925, he would loan Coffman $350,000 to rebuild and expand her establishment in the popular Spanish Mediterranean style in exchange for her building him a house in the same style on the hill above. Published in House Beautiful magazine in 1928, the home was called Ojo Del Desierto, and offered vistas of the empty desert that stretched for miles below.
William Mead, a Los Angeles banker and two-time state legislator, commissioned a house by Los Angeles architects Dodd and Richards to be set at the terminus of Tahquitz Canyon. Mead's good friend Roland Bishop, one of the largest manufacturers of crackers and cookies in the 1920s, built a similar house next door.
King Camp Gillett of safety-razor fame, who likewise frequented the Desert Inn, bought acreage in the foothills south of Palm Springs in what is now called the Mesa. By 1926 he had already commissioned renowned California architect Wallace Neff to build an estate in the early California Spanish style in Los Angeles County's Santa Monica Mountains. Neff subsequently designed Gillette's Palm Springs House with guesthouse, in the same style, but it was later subdivided and remodeled out of recognition.
View full article…