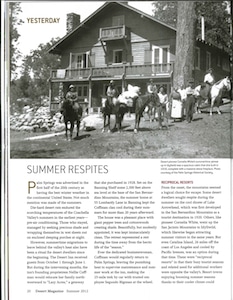 Palm Springs was advertised in the first half of the 20th century as having the best winter weather in the continental United States. Not much mention was made of the summers.
Die-hard desert rats endured the scorching temperatures of the Coachella Valley's summers in the earliest years-pre-air conditioning. Those who stayed, managed by seeking precious shade and wrapping themselves in wet sheets out on enclosed sleeping porches at night.
However, summertime migrations to leave behind the valley's heat also have been a ritual for desert dwellers since the beginning. The Desert Inn received guests from October 1 through June 1. But during the intervening months, the inn's founding proprietress Nellie Coffman would relocate her family north-westward to "Lazy Acres," a getaway that she purchased in 1928. Set on the Banning Shelf some 2,300 feet above sea level at the base of the San Bernardino Mountains, the summer home at 55 Lombardy Lane in Banning kept the Coffman clan cool during their summers for more than 20 years afterward.
The house was a pleasant place with giant pepper trees and cottonwoods creating shade. Beautifully, but modestly appointed, it was kept immaculately clean. The retreat represented a rest during the time away from the hectic life of the "season."
Ever the dedicated businesswoman, Coffman would regularly return to Palm Springs, braving the punishing heat to supervise maintenance and summer work at the inn, making the 25-mile trek by car with trusted employee Segundo Rigonan at the wheel.
View full article…