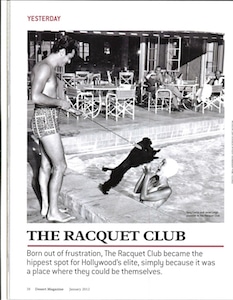 Although they're worshipped these days like deities, in the 1920s and '30s "show people" weren't welcomed lavishly at the established hotels in Palm Springs. But then, the world was indeed a different place.
The Desert Inn was ambivalent, to put it kindly, about people in the movie business, although they made a major exception for child star Shirley Temple, who was the world's No. 1 box-office attraction in the mid-1930s.
The El Mirador Hotel was more tolerant, but not particularly of local film people like Ralph Bellamy and Charlie Farrell, leading men of the era who both maintained places in town. The two were avid tennis players and the story goes that they couldn't get sufficient time on the hotel's court. Unfortunately, it was one of only two courts in Palm Springs; the other belonged to the even less welcoming Desert Inn.
When Bellamy and Farrell got tired of constantly getting kicked off in favor of paying guests, they reacted by buying some windswept land north of town and starting their own place.
View full article…