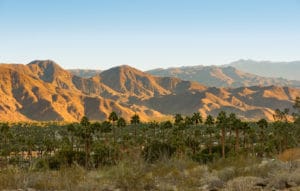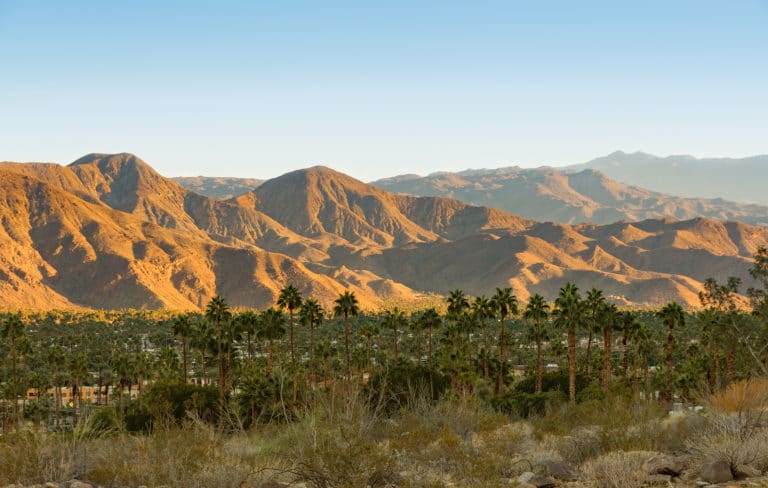 There are a variety of hikes in the Palm Springs area, all of which reward hikers with a distinctive flora and fauna, and impressive views of the valley below.  Within an hour of Palm Springs, there are more than 140 trails to explore. It's no wonder Palm Springs has become such a popular hiking destination.  Palm Springs Life Magazine put together a list of 5 amazing hikes in the area, and we think it perfectly sums up the best of Palm Springs. Here are their top 5 choices:
The "Big Split Rock" Slot Canyon Walkabout in Mecca Hills. This 6 mile trek will take you along the boundary of two tectonic plates, which of course are what give Mecca Hills its characteristic geology.
Lost Palms Oasis Trail at Cottonwood Spring, located in Joshua Tree National Park. This 8 mile trail is at the southern end of Joshua Tree National Park, and features a beautiful and lush grove of fan palms, aka the Lost Palms Oasis.
Whitewater Canyon/Pacific Crest Trail Ridge Loop on Whitewater Preserve. This 4 mile hiking trail on Whitewater Preserve forms the boundary between the Coachella Valley desert area and the San Bernardino Mountains. It is a simply stunning trip, with desert vistas in all directions.
Palm Canyon Trail to the Stone Pools, located in Indian Canyons. This interesting 6 mile journey will take you from a lush river bottom to high desert plateaus. Not only will you enjoy breathtaking mountain vistas, but other highlights of this trip include views of the desert and Palm Springs, a series of magnificent plunging cliffs, waterfalls, and pools fed by crystal clear water.
Spitler Peak Trail in the San Jacinto Mountains. At 10 miles, this is the longest hike in the list, but certainly worth the effort. Hikers will find their way into the scenic high country of the San Jacinto Mountains, with rewarding vistas at the end.
There are many components of a well thought-out vacation, but lodging is of utmost importance. Hiking through Palm Springs is one of the most rewarding ways to spend time this fall. How many miles you hike is up to you, but it all begins with your stay at the luxurious Willows Historic Palm Springs Inn. Book a room today.