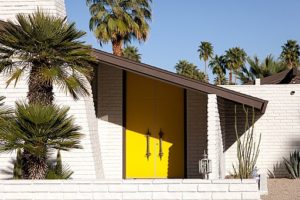 Palm Springs has long been revered as a luxury destination for Hollywood elite and captains of industry. It is also well known for its annual celebration of mid-century modern architecture and design. The Fall Preview for Modernism Week kicks off this weekend. More importantly, it's time to plan for 2019 Modernism Week in Palm Springs.  Tickets go on sale November 1, 2018, and rooms will book up fast. Make a reservation at the Willows Historic Palm Springs Inn today.
Modernism Week in Palm Springs
Mid-Century Modern architecture dates back to the 1920's, when architects began designing sleek and modern homes that placed an emphasis on embracing Palm Springs' desert surroundings. The particular style of architecture that subsequently developed is notable for its use of glass, clean lines, natural and manufactured resources, and the utilization of both indoor and outdoor spaces. For the first time, this type of architecture evoked a sense of lifestyle; one that embraced the simple elegance and informality of desert living. As a result, Palm Springs is one of only 12 cultural tourism destinations for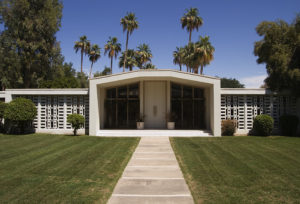 architecture, as designated by the National Trust for Historic Preservation.
Modernism Week is an annual ten-day celebration in Palm Springs that celebrates the area's rich mid-century modern art, architecture, and design elements. The signature February celebration features more than 350 events, which will be listed in full after the fall preview on October 25, 2018. Events will include things like the Modernism Show & Sale, Signature Home Tours, films, lectures, Premier Double Decker Architectural Bus Tours, nightly parties and live music, walking and bike tours, tours of Sunnylands, fashion, classic cars, modern garden tours, a vintage travel trailer exhibition, and so much more. Tickets for Modernism Week sell quickly, and they go on sale November 1, 2018.
The Fall Preview for Modernism takes place October 18 – 21, 2018. Given the popularity of Modernism Week, it's best to make advanced reservations, so you can ensure your spot in Palm Springs' most sought-after lodging.  Make a reservation at the Historic Willows Palm Springs Inn today.