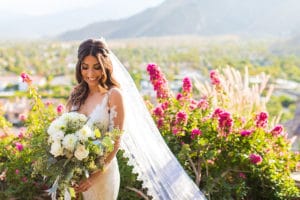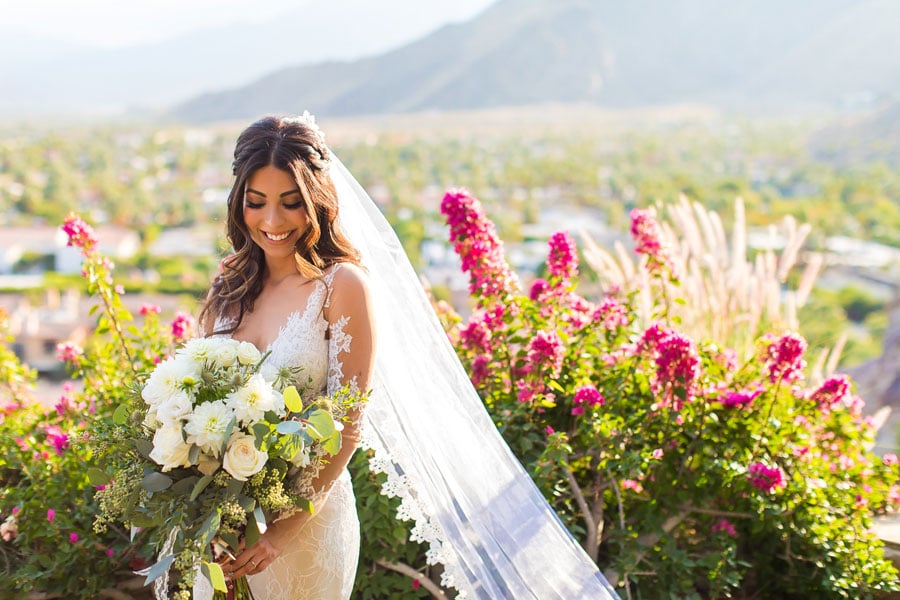 The O'Donnell House, a sister venue to the Historic Willows Palm Springs Inn, offers a refined atmosphere and is the perfect outdoor wedding venue in Palm Springs. This stunning wedding venue has been recently featured in In Style Weddings Magazine and Palm Springs Life Weddings Magazine. With the mountains setting a breathtaking scene in the distance, and the expansive terrace blending with the picturesque desert background, the meticulously restored O'Donnell House is the ideal wedding venue for an outdoor wedding in Palm Springs. Combined with the Willows Historic Palm Springs Inn, guests will have access to luxury lodging, desert verandas, a swimming pool, and the opulence of Old Hollywood in the 1930's. There's no more elegant venue than the O'Donnell House. Inquire for more information today.
Incredible Location
The O'Donnell House is located just up the hill from its sister property, The Willows Historic Inn. Both are nestled at the base of Mount San Jacinto in Palm Springs, CA. It's also just a 2-minute drive to downtown Palm Springs, so out of town guests can easily explore new restaurants and fun activities.
Historic Charm
The house was designed by architect William Charles Tanner and completed in 1925. It was the winter home of multimillionaire Thomas O'Donnell and his wife. It was also the highest two-story home in all of Palm Springs until the 1960s and originally nicknamed "Ojo del Desierto" or Eye of the Desert. In 2011 it was rightfully listed on the National Registry of Historic Places.
The 4,100 sq ft House and grounds have been recently restored to its 1930's glory and include rare tile floors, redwood ceilings, antique furnishings, and modern touches. As you enter the estate by shuttle service, the wrought iron gate ensures you and your guests are the only ones invited. You can relax knowing you're in complete and total privacy on the most important day of your life.
Stunning Ambiance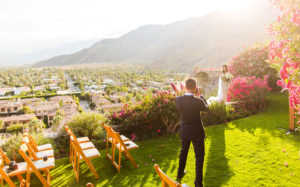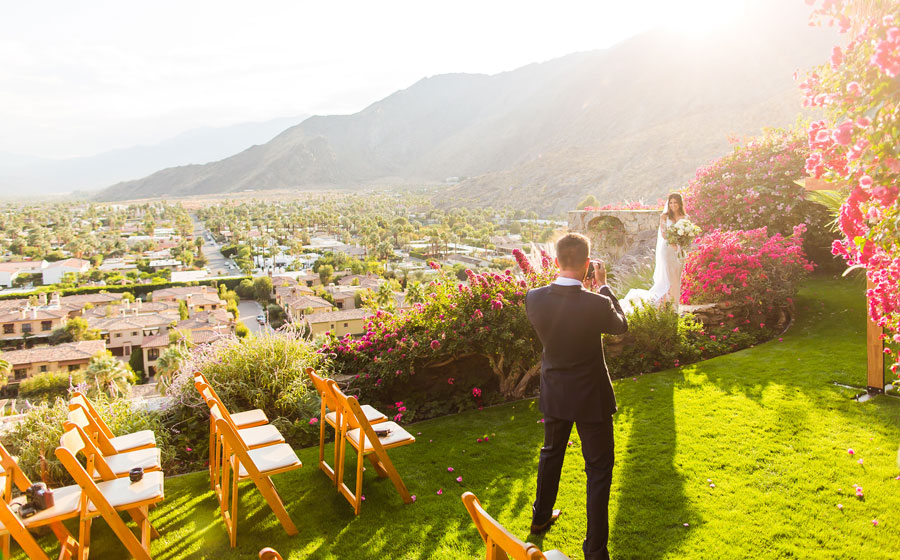 The O'Donnell House provides a natural paradise surrounded by a mountain backdrop, lush gardens, sprawling acres, exhilarating city views and more. The Spanish Revival house itself is a two-story that boasts a red-tile roof and extra long balcony, a perfect backdrop for the cake cutting or the bouquet toss. Located behind the home you'll see detailed rock archways that lead to green meadows, colorful flowers, and an ultra-romantic setting for a wedding ceremony. The cliffside stone terrace then sets the stage for your dream reception. You'll feel as if you're floating above the world in married bliss. Enjoy watching the sunset change to dreamy, starry skies as you happily dance the evening away. Guests are free to explore the interior and exterior of the Mediterranean styled O'Donnell House and mingle among the entire property.
Luxury Guest Accommodations
Being so close to The Willows Historic Inn, newlyweds, family, and/or friends can rent out 16 stunning guest rooms just down the hill and/or the 4 guest rooms located in the O'Donnell House. Each room has its own unique characteristics and can include king-sized beds, satin chaise lounges, plush robes, marble shower floors, and huge clawfoot tubs. Not only will you and your luckiest guests enjoy top-notch accommodations, but you'll also enjoy having all of the Inn's other spaces all to yourselves. Within the Inn, you will find lovely high, open-beam ceilings, grand piano, fireplace, 50-foot waterfall, balconies, and luxurious ambiance everywhere you turn.
Guests of the Willows Historic Inn will also enjoy a daily three-course gourmet breakfast for two, afternoon wine/hors d'oeuvres and evening turn-down service. Your guests will be in awe of their luxurious experience long after the wedding is over.
Wedding/Reception Spaces
Event Lawn
Gorgeous event lawn surrounded by hand-laid stone and gardens, nestled right along the mountainside
Guest capacity – 125
Views – Incredible canyon and mountain views
City-View Terrace
Stone terrace situated right above the downtown of Palm Springs
Guest capacity – 125
Views – Romantic cityscape, canyon, and golf course views
Rental fees vary based on the guest count and run between $7,500-9,000.
Other Amenities/Details
Catering: Choose from preferred caterer list or BYO for an extra charge
Tables & Chairs: Provided
Linens, Silver, etc.: Please bring your own
Restrooms: Available (not wheelchair accessible)
Dance Floor: Yes!
Bride's & Groom's Dressing Areas: Yes
Parking: Valet and/or shuttle service required
The O'Donnell House will transport you and your guests into a picturesque, relaxing, fairy tale setting – turning your wedding dreams into a reality. Contact us today to schedule a tour or learn more about planning your wedding at this breathtaking wedding venue in Palm Springs!