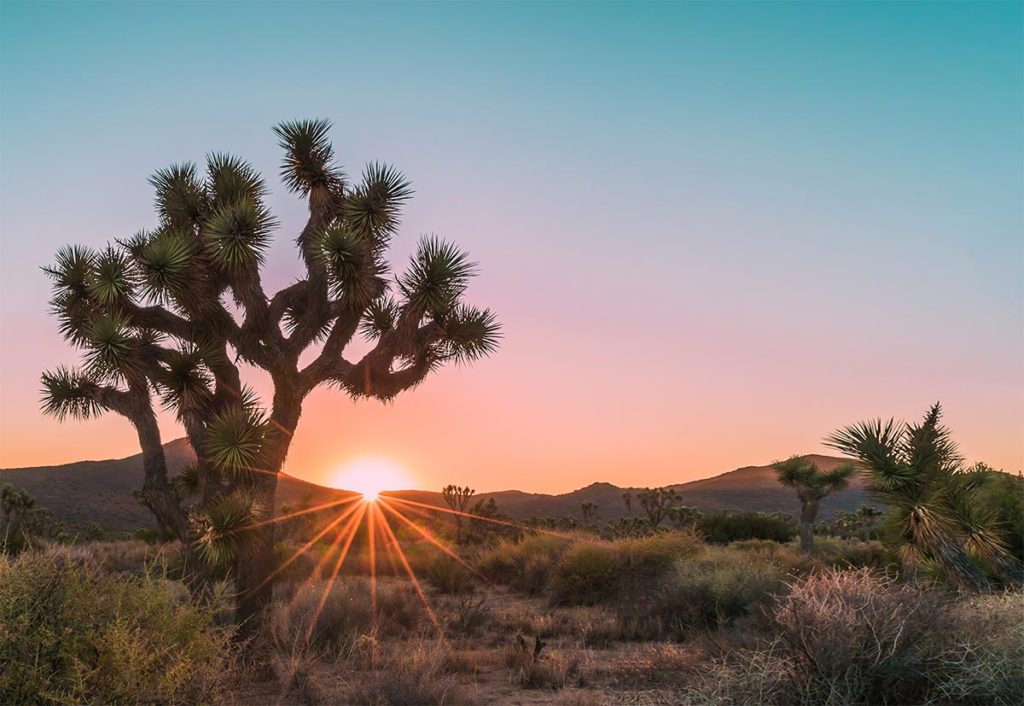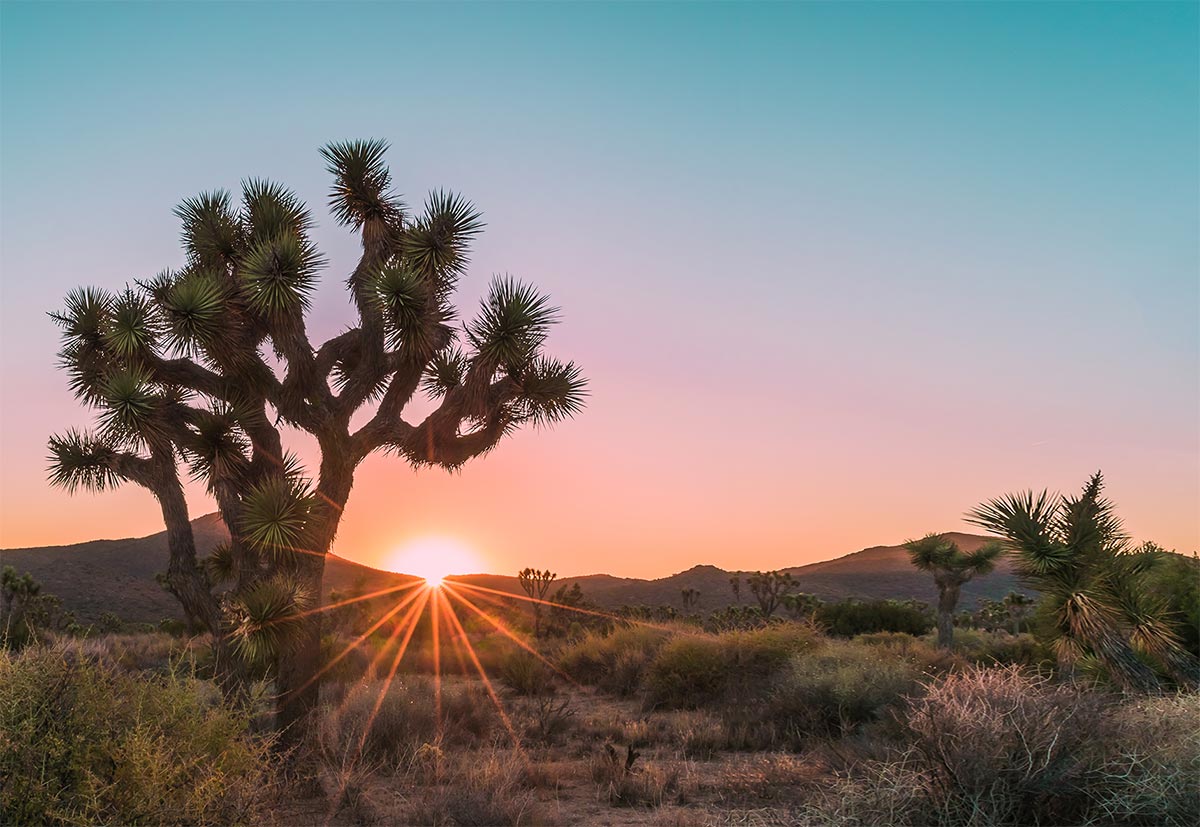 Are you looking for somewhere relaxing to get away from it all this spring? Look no further than our luxury Palm Springs Hotel. Our boutique hotel is located just minutes from downtown Palm Springs, putting you close enough to the restaurants, attractions, and events happening in the area, yet far enough away to feel like you're at your own luxurious and private hideaway.
Our Palm Springs hotel was, after all, designed to be exactly that; a private hideaway that only the Captains of Industry and other Hollywood elite could benefit from. Today, this once luxurious private home has been remodeled into a luxury hotel just on the outskirts of Palm Springs. It's a place of ineffable charms that truly must be experienced to be believed. This spring, a rare opportunity presents itself. Book a room at the Willows luxury Palm Springs Hotel today.
Our Luxury Palm Springs Hotel Serves as Your Desert Oasis
Linger in our lush, terraced gardens, lounge poolside soaking in the breathtaking desert panoramas beyond our property, and relax in style. That's what awaits at the Historic Willows Palm Springs Inn. The Willows operates seasonally, from May – September of each year, and only a limited number of guests enjoy the opportunity to stay with us each year.
Upon arrival at our Palm Springs hotel, you'll immediately feel as though you're at your own luxuriously private hideaway in the Palm Desert. This is in part due to the fact that we only offer 17 guest rooms. The building itself is a treasured historic landmark in Palm Springs, as it is one of the 10 oldest structures in the city. We've maintained the Inn's historic charms while updating it to modern standards.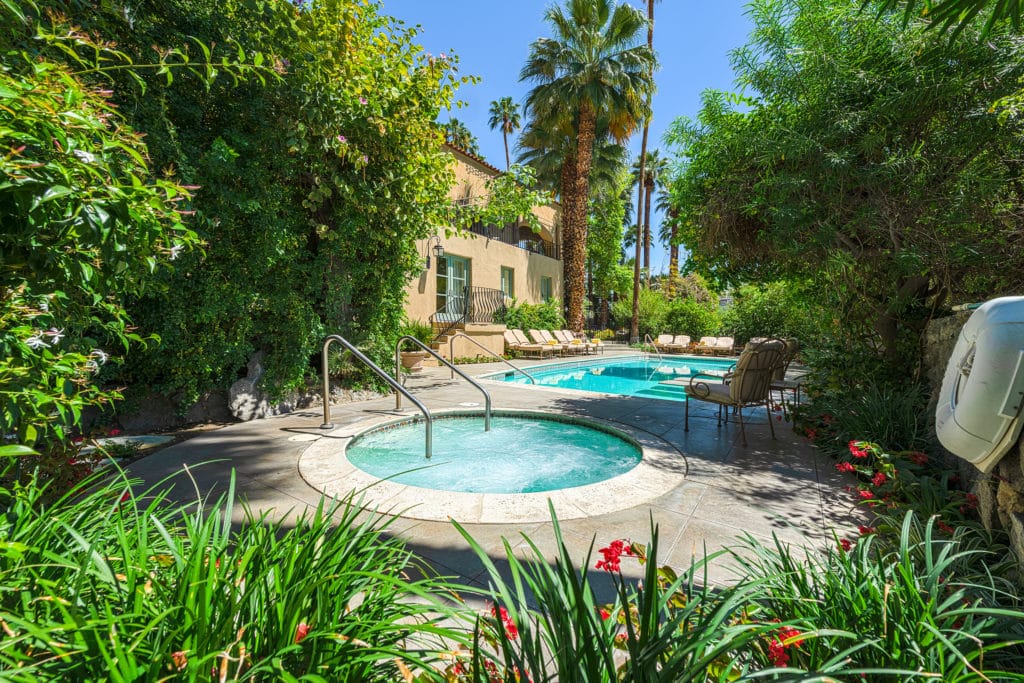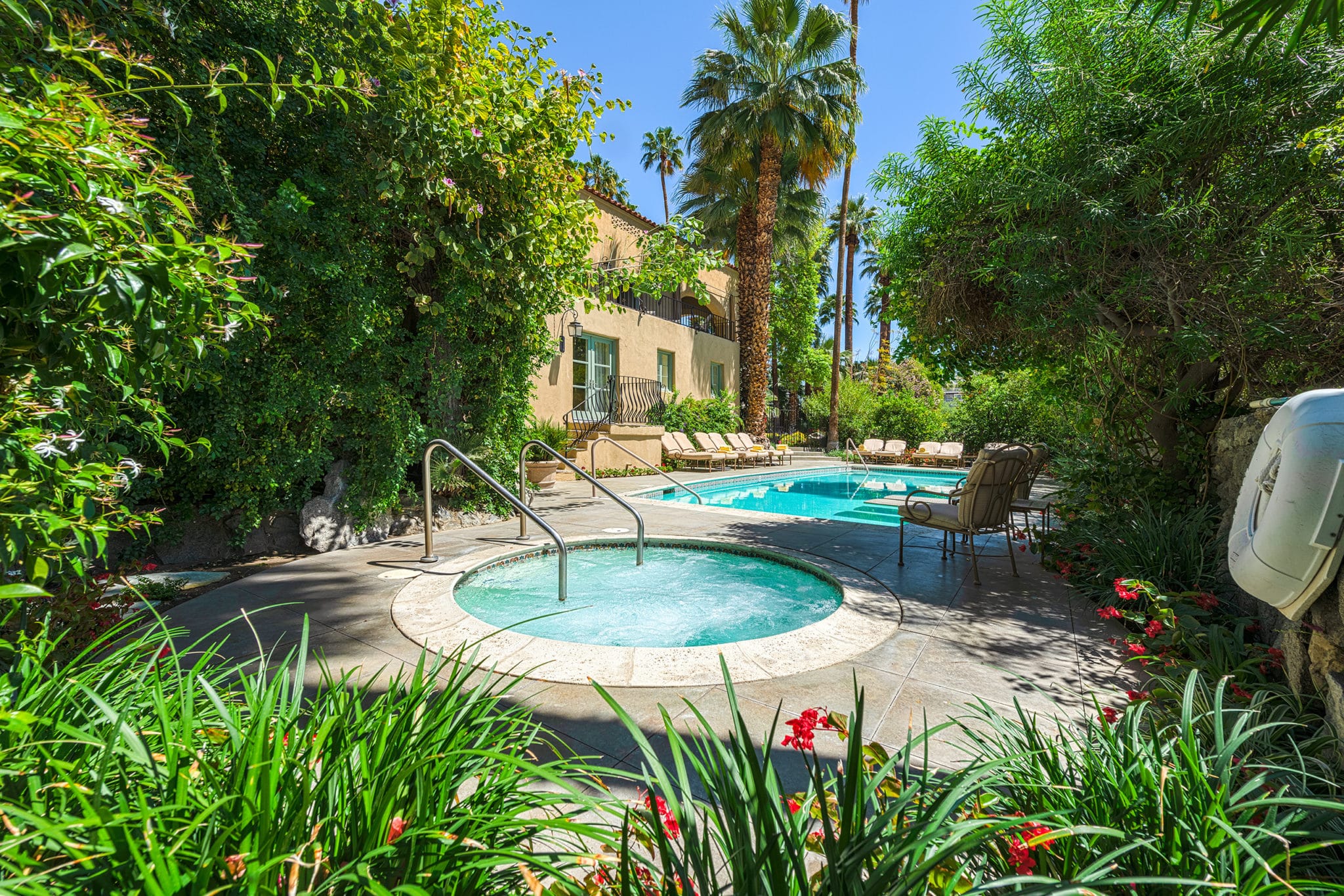 Each of our 17 guest rooms have been uniquely and tastefully decorated.  Among the standard amenities you'll find at our Palm Springs Hotel are luxurious linens, plush robes and sumptuous towels, flat-panel televisions, DVD players, clock radios, high-speed Internet access, minibars, refrigerators, and individual room climate control. That's not all you'll find here, though.  Our guest rooms vary in their offerings but include things like private balconies and terraces, oversized tiled showers, and an incredible selection of antiques. No two of our guest rooms are alike, which is just one more thing that sets us apart from the traditional hotel model.
On our grounds, we offer guests the use of our swimming pool and jacuzzi. Our lush gardens are absolutely breathtaking, too, and you'll find private pathways throughout leading you to some of the most stunning vistas in the entire valley. Stop and soak in the scenery, enjoy a sunset, and marvel in this incredible place.
Each morning of your stay, enjoy a sumptuous gourmet breakfast beside our tranquil 50-foot waterfall. In the afternoon, join us for a wine and hors d'oeuvres reception in the lounge. If you can tear yourself away from this incredible place, the bustling downtown of Palm Springs and all of its delightful attractions aren't too far away.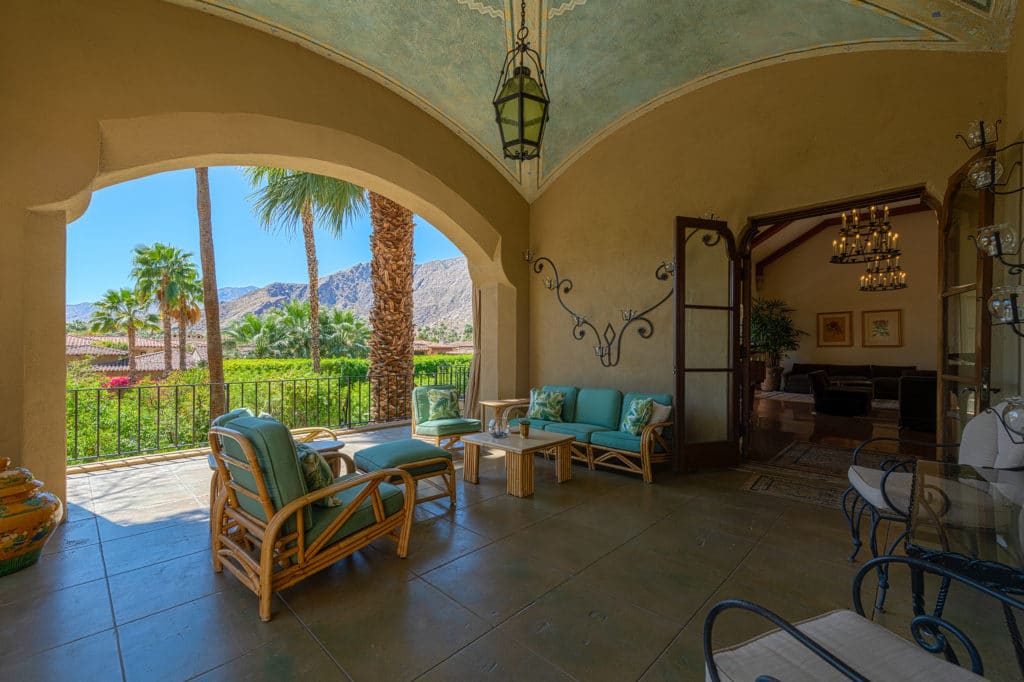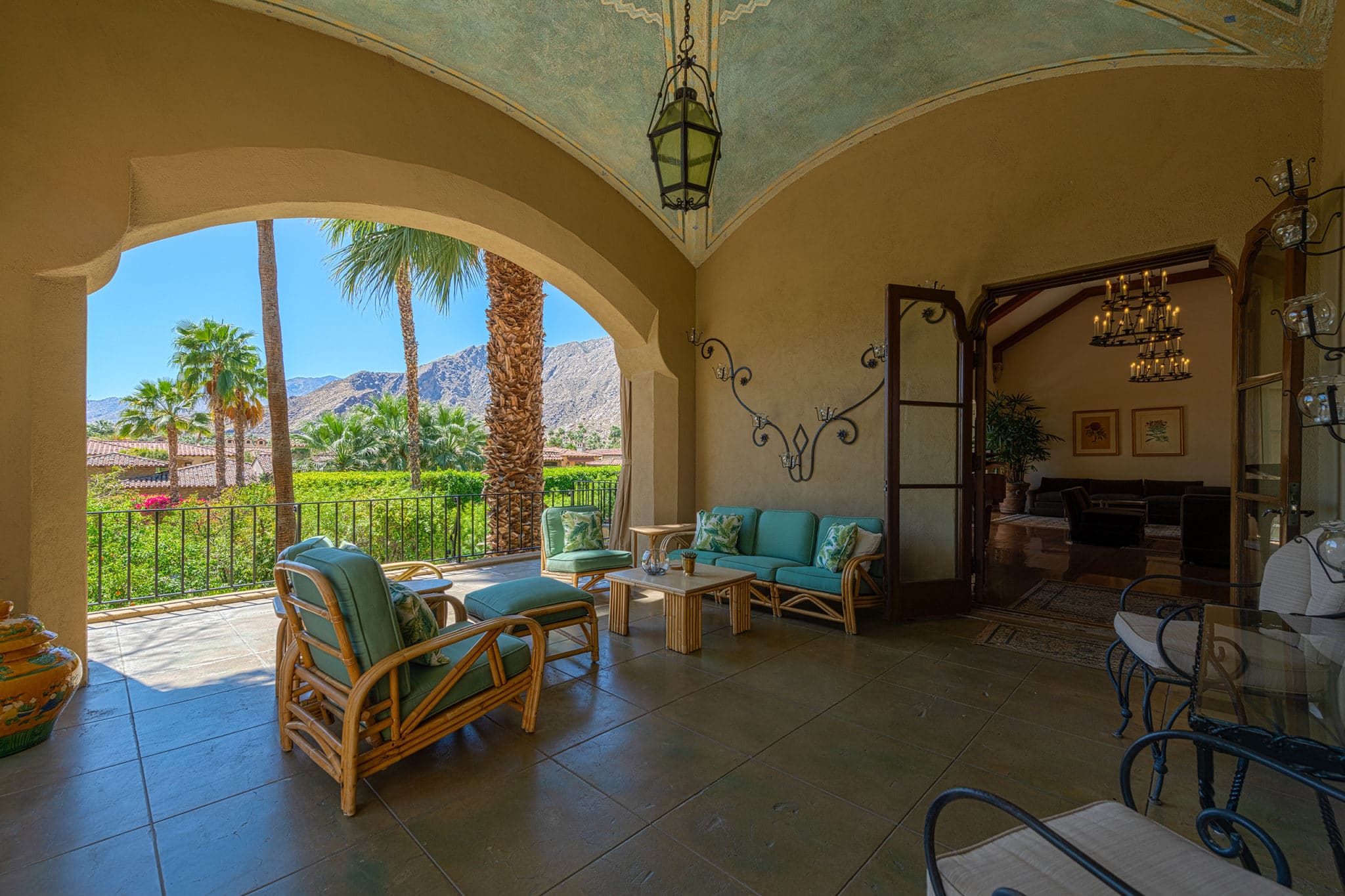 Spring is the Best Time to Visit Palm Springs
We often get asked when is the best time to visit Palm Springs. This charming desert getaway is fun at any time of year, but it's certainly more popular outside of the hot summer months. Spring is particularly magical, though, as desert blooms make their appearance after their winter dormancy.
The Willows Palm Springs Hotel is only open September – May of each year, so the true answer to that question lies in our open season. If you visit outside of that season, you won't' be able to enjoy our hidden and luxurious paradise.  One stay here and you'll never want to leave.  Experience paradise at the Willows Palm Springs Hotel. Book today!