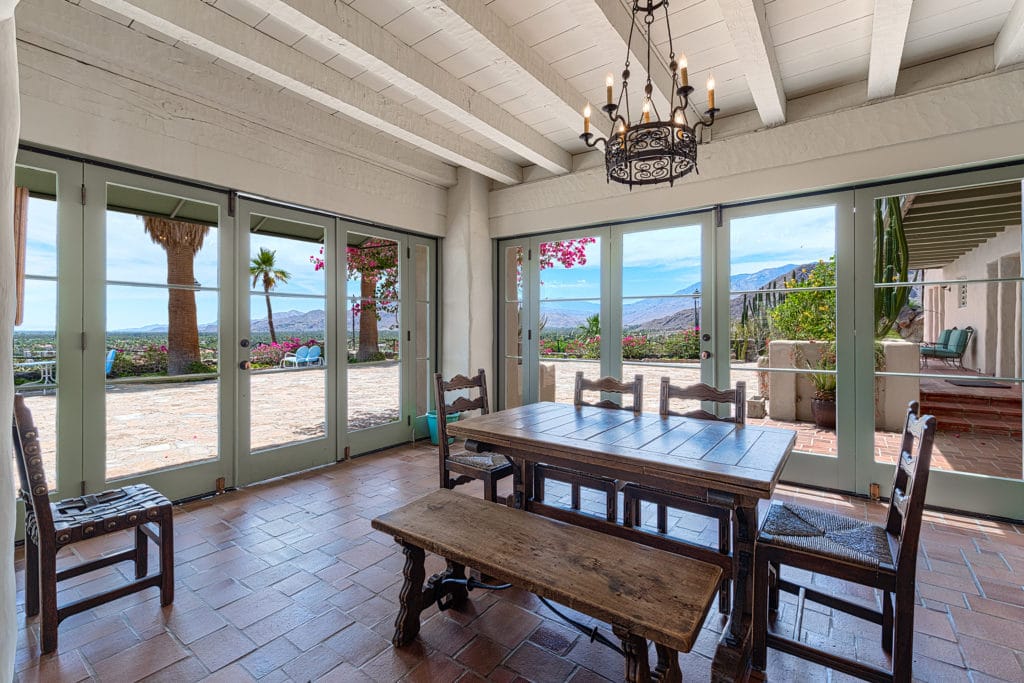 What makes ours the perfect Palm Springs wedding venue? The answer is another question: What better feeling can there be on your wedding day than the sensation of soaring above the world on a sea of sunny bliss,  surrounded by lush gardens and loved ones, high above the floor of the world?
It's a feeling you can get in Palm Springs only at the O'Donnell House, a 1920s home meticulously restored into the premium Palm Springs wedding venue. The expensive outdoor terrace looks out at mountains that make for a breathtaking backdrop above the shimmering city of Palm Springs and the wide-screen desert-scape that surrounds it, providing the perfect serene ambiance for your special day with your sweetheart.
This stunning historic home is the sister facility of our Palm Springs Boutique Hotel, itself a stunning example of a glamorous getaway inspired by Hollywood's Golden Age, where you and your guests can stay in its 16 luxuriously appointed guest suites. Inquire here for more information about having your dream wedding at our awe-inspiring venue.

Why Choose Our Palm Springs Wedding Venue?
Here's what we think makes the O'Donnell House a magical and memorable Palm Springs wedding venue:
The 4,100-square-foot two-story house, nicknamed "Ojo del Desierto," or "Eye of the Desert," and its sumptuous grounds can accommodate up to 125 guests.
, The house, restored to its 1930s heyday in the Spanish Revival style, is on the National Register of Historic Places, was once the highest private residence in Palm Springs. It has been spotlighted in In Style Weddings and Palm Springs Life Weddings, among other magazines.
The O'Donnell House is not only just up the hill from its sister facility, our Palm Springs Boutique Hotel, but it's just two minutes from downtown Palm Springs, making it easy for wedding guests from out of town to explore the area and its awe-inspiring delights.
Our stunning ambiance is second to none. In addition to the features we mentioned above, the O'Donnell House features a red-tile roof with an extended balcony, a perfect backdrop to cake-cutting, bouquet-tossing, cliffside terrace dancing and other cherished wedding rituals.
The "event lawn," surrounded by hand-laid stone and gardens, allows for the exchange of vows to happen against gorgeous canyon and mountain views that make for the most amazing wedding photography.
We're all about flexibility. We can provide our own caterer, or accommodate your own. Tables and chairs are provided, as are dressing rooms for the bride and groom and their parties.
Our Palm Springs Boutique Hotel not only has 16 sumptuous guest suites appointed with all the luxury amenities you could want or need. Each room is unique but can offer a king-sized bed, satin chaise lounges, plush robes, marbled shower floors and huge clawfoot tubs.
Outside your guest suite, our Inn offers delicious three-course breakfasts, a swimming pool, Jacuzzi tubs, evening wine and hors d'oeuvres, and turn-down service, among other pampering features.
Inside, you can relax under lovely high open-beam ceilings, settle in near the grand piano or 50-foot waterfall, among other opulent decor and design features, and imagine yourself doing as Clark Gable and Carole Lombard did more than eighty years before in that very spot.
 In case there are any lingering questions about the O'Donnell House or The Willows, take a glimpse at some wedding photo and video galleries, full of beautiful happy couples and their friends and families, from our Palm Springs wedding venue. We're confident that will seal the deal for you!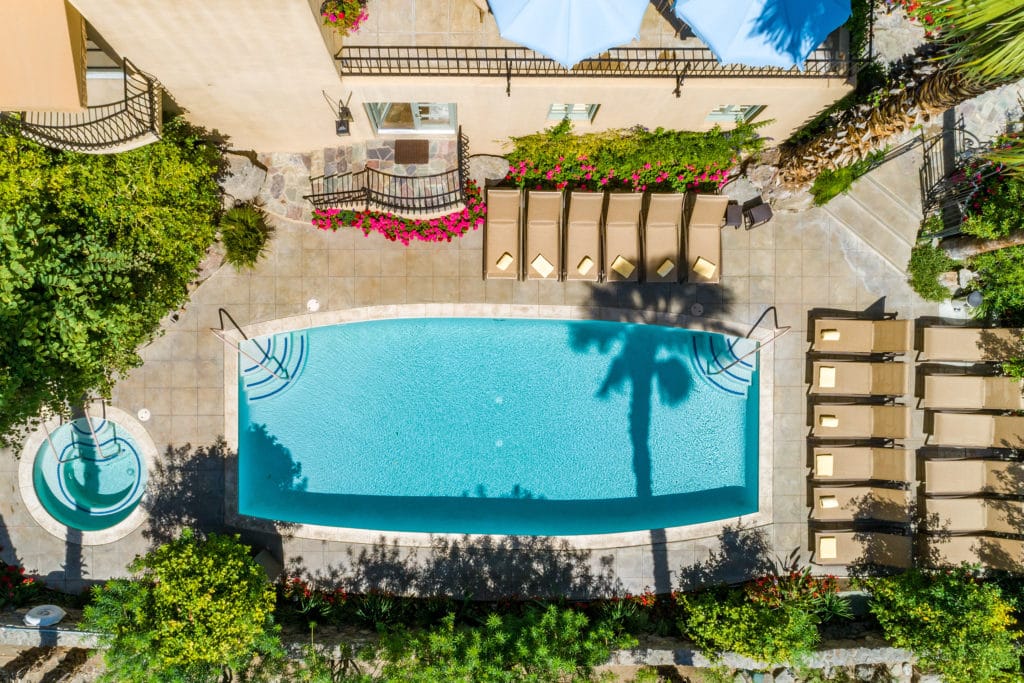 Make Our Palm Springs Hotel Part of Your Wedding Plans
At our Palm Springs wedding venue and our Palm Springs Hotel, we aim to offer you nothing less than the ideal destination wedding experience — before, during, and after the ceremony. The combination of natural beauty, luxury ambiance, and the helpful professionalism we offer is unrivaled in the Palm Springs region.
We will transport you and your wedding guests into a stunning fairy-tale setting, turning your dreams of the picture-perfect wedding day into a reality you'll remember fondly forever. So contact us today to schedule a tour or to learn more about our breathtaking Palm Springs wedding venue!