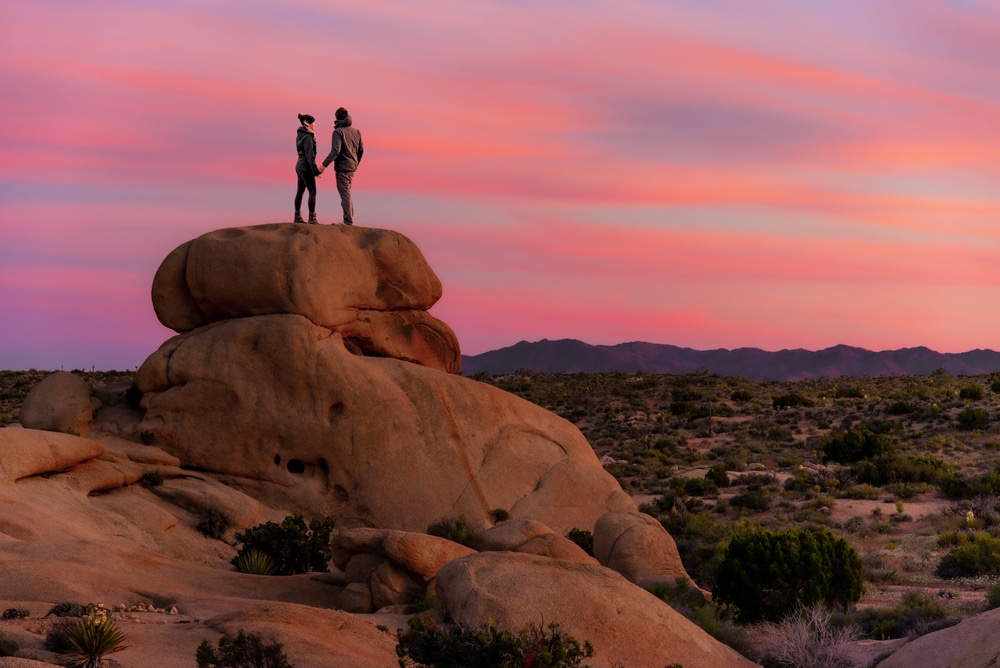 As one of the most iconic places in the world, Joshua Tree National Park is where two deserts meet, creating a vast and diverse natural area ripe for exploring. The Mojave and Colorado deserts have their own distinct ecosystems which is due mostly in part to elevation. You'll find areas dense with the unique shape of Joshua Trees, giant boulders jutting from the sand, and some sparse open landscapes for striking panoramic views.
About 800,000 acres make up the protected area designated as Joshua Tree National Park (the majority of the acreage isn't accessible by vehicle, which only adds to the feeling of seclusion and being truly immersed in nature.) The dramatic scenery offers an amazing backdrop for hiking, bouldering, desert picnics, and stunning photography opportunities. In fact, Joshua Tree National Park is often the setting for Hollywood productions and music albums and videos.
Joshua Tree National Park sits about an hour north of Palm Springs. The scenic drive through the rugged landscape is a great way to get a lay of the land. Thankfully, our luxury Palm Springs Hotel is the ideal location for exploring the desert countryside, while still being right in the hub of Palm Springs for elegant dining, nightlife, shopping, and spa treatments. After a hot, dry day at Joshua Tree National Park, most guests head straight to our pool area to cool off.
Start planning your next visit to Palm Springs and book your stay today!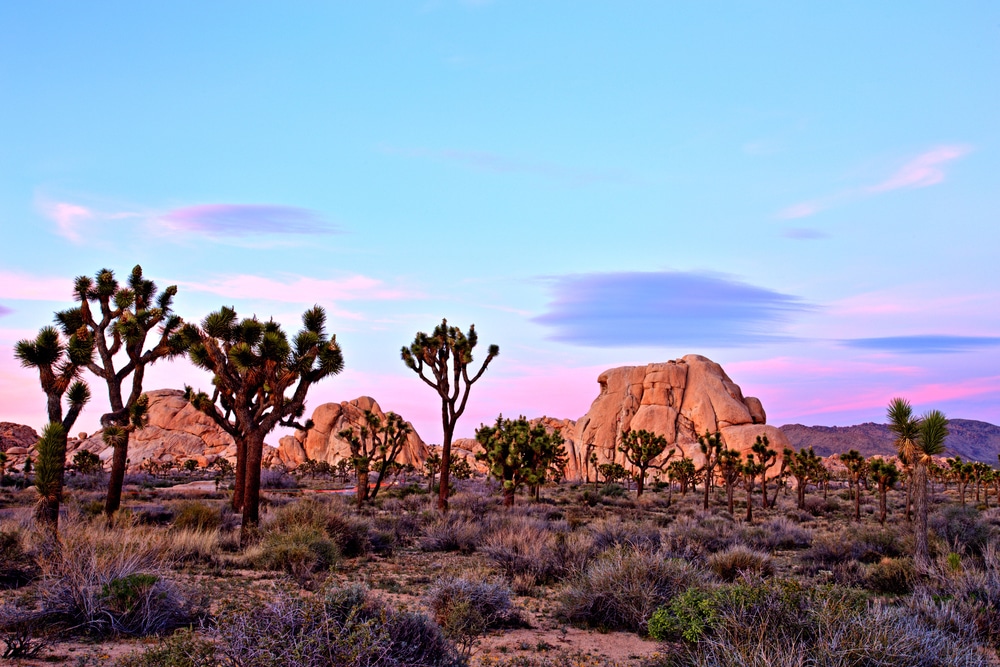 Adventurous Things to do at Joshua Tree National Park
There's are many reasons why Joshua Tree National Park is an iconic location in California and one of the best ways to find out why is to explore this magical terrain yourself. You'll find plenty of hiking options for different skill levels, interesting wild and plant life viewing, and plenty of informational resources for getting to know the desert.
Here are five things to do at Joshua Tree National Park:
Hidden Valley Nature Trail: This area is by far one of the most accessible at Joshua Tree National Park. There's a one-mile easy loop that's the most popular trail used by visitors. You'll pass by a bouldering spot known as the "Giant Burrito" and on the other side of the trailhead there's a nice picnic area and grove of Joshua Trees to wander under and around.
Barker Dam Nature Trail: For another easy hike at Joshua Tree National Park, this is your best bet with huge Joshua Trees, interesting geological features, and water feature. The 1.3 mile loop is perfect for those looking to explore this area without getting too deep into the desert terrain.
Cholla Cactus Garden: One of the more beautiful attractions at Joshua Tree National Park is this densely covered cactus garden. The Cholla cactus are known to almost glow is the sun rises or sets, the light catches the needles and creates a sort of mystical feeling.
Skull Rock: This rock formation is by far the most well-known at Joshua Tree National Park. Visitors often roam through the desert landscape here and climb up the rock face for Instagram updates. If you're looking for other rock climbing options, there are more than 8,000 climbing routes, maps and tips can be found at the information center.
Cottonwood Springs Oasis: Finding water like the Cottonwood Spring is a rarity in the desert. Due to an earthquake many years ago, it birthed this unique spring that averages a 500 galloon flow per day. It's a lovely place for birdwatching in the shady spots or along the water.
Other Attractions Near Joshua Tree National Park Not to Miss
There are a few other popular attractions and experiences to visit in the area of Joshua Tree National Park. Check out these museums, art installations, and the farmer's market:
Noah Purifoy Foundation: The Outdoor Museum of Assemblage Sculpture is an amazing place to visit, especially if esoteric and found art interests you. This expansive outdoor art museum has large, unusual sculptures made with everyday artifacts, wreckage, and large metal pieces.
 Joshua Tree Farmer's Market: On Saturday's there's a charming little Farmer's Market representing local farmers and merchants for produce, flowers, and art.
The Integratron: For a bit of an off-the-beaten-path experience, head to this 1950s building designed by George Van Tassel. He claimed the space was the ultimate rejuvenation center and had time-travel capabilities. Now you can experience something called a "sound bath," a 60-minute sonic healing session.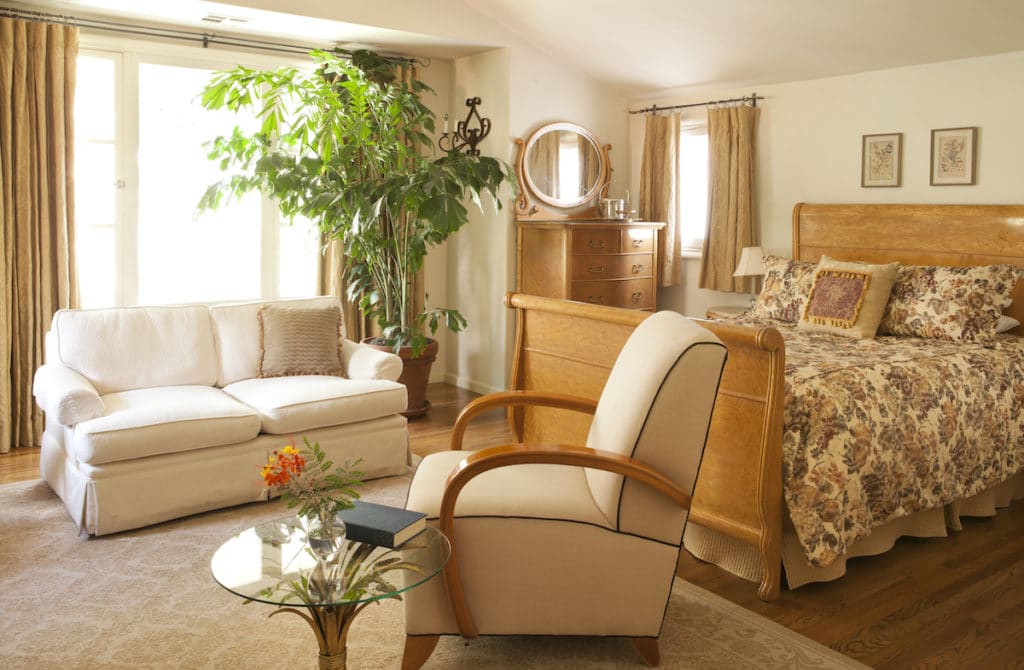 Complete Serenity at our Luxury Palm Springs Hotel
The beauty of Joshua Tree National Park is something you'll remember for a lifetime. The same could be said for a stay at The Willows Historic Palm Springs Inn. Our luxury hotel has a rich history within the Palm Springs community. Our seventeen guest rooms have hosted some of the world's most famous people from the likes of Dr. Albert Einstein, past Presidents of the United States, and an array of Hollywood stars.
From September to May we open our doors, welcoming guests from around the world to come and relax poolside, by a cozy wood burning fireplace in the lounge, or enjoy the pristine quiet of each of our guest suites. Join us each morning for a lovely spread of home prepared dishes with local and seasonal ingredients. We can't wait to host you at our luxury Palm Springs Hotel. Check our fall availability and book your next stay today!