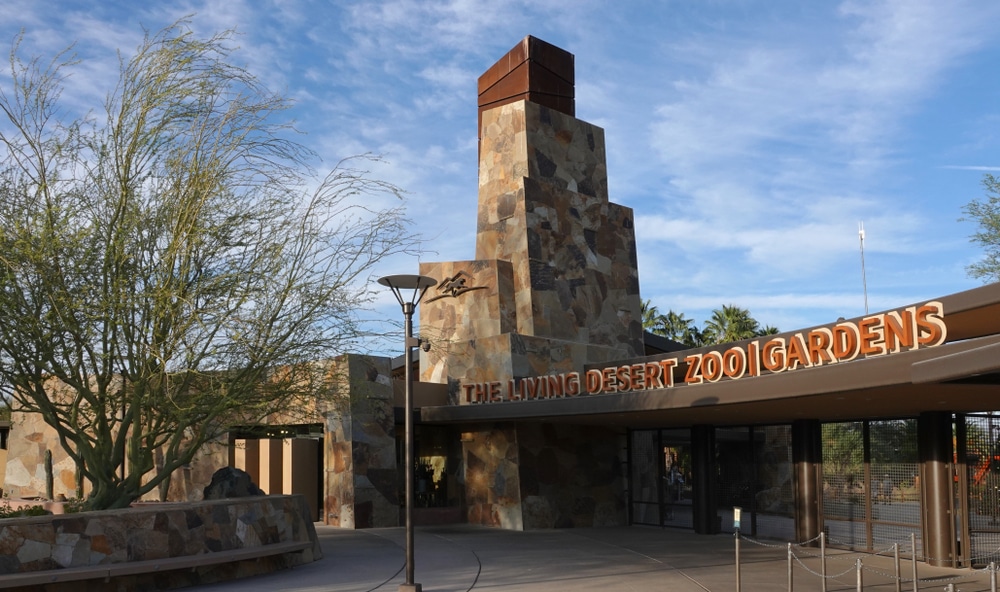 While your first thought when booking a trip to Palm Springs might not be "Let's go to the Zoo!" you may want to think twice. The Living Desert Zoo and Gardens is a gem in the Palm Desert at the base of the foothills of the Santa Rosa Mountains. The Living Desert Zoo is a non-profit with more than 500 animals and 1,200 acres of botanical gardens with thousands of species of plants.
A trip to the Living Desert Zoo and Gardens is best enjoyed on the earlier side of the day, before the desert heat sets in. When you stay with us at our historic Palm Springs Boutique Hotel, we'll start your day off right with a special breakfast with gourmet entrees, seasonal fruit, and fresh brewed coffee and teas. Your morning meal can be enjoyed in our elegant dining room, the private verandah or in your own suite.
The Living Desert Zoo is about 15 miles from our Palm Springs Hotel, which will take you on a 40-minute scenic drive along the rugged terrain of the San Jacinto Mountain range. Wake up refreshed and ready for your adventures in our quiet and serene guest rooms. Enjoy your breakfast and coffee to the sound of our waterfall on the outdoor patio and then head on your way to explore the beautiful desert terrain. Start by setting up your reservation with us today!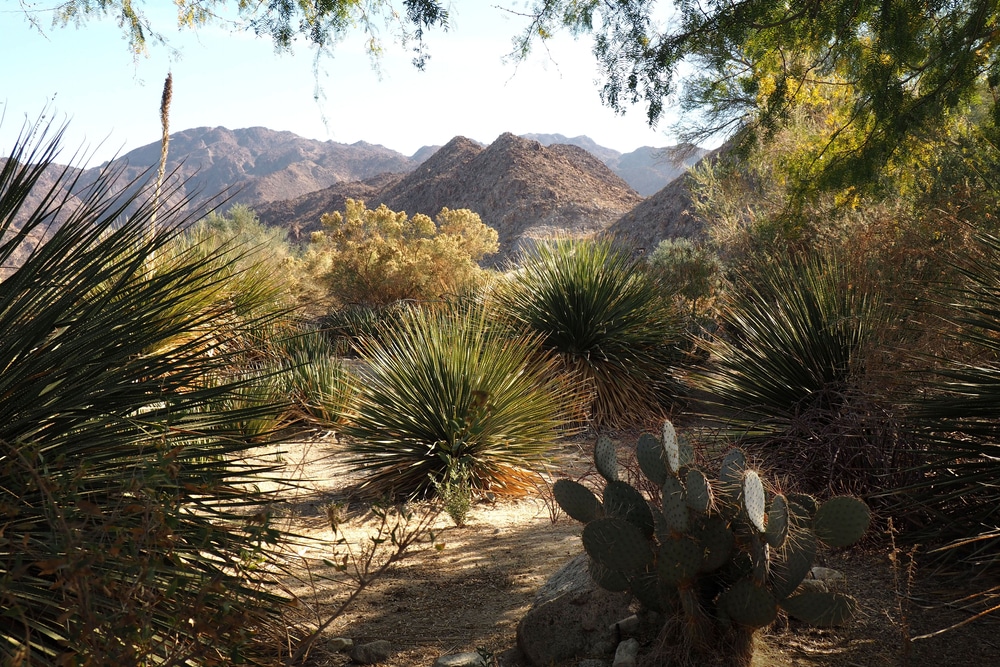 Explore Flora & Fauna at the Living Desert Zoo and Gardens
This part-zoo part-gardens attraction in Palm Springs has a little something for everyone. For animal lovers, there are amazing species in the Australian Adventures exhibits, you'll get a chance to feed a giraffe, and see interesting bird and retile varieties. For the garden and outdoor enthusiasts, there are miles and miles of trails to explore—some maintained and some in its natural state—in the Colorado Desert.
Here are some important things to know before you go:
Hiking at the Living Desert Zoo is quite an immersive experience. The zoo admission covers your access to three trail loops on the nature preserve winding through the Coachella Valley. The "Discovery Loop" is perfect for an easy stroll on a quarter mile of flat, sandy terrain. If you want to add a bit more length to this loop, continue on the "Adventure Loop" for an extra mile of exploration in the desert.
For the truly adventurous the "Wilderness Loop" is 3.5 miles (5 miles from the parking area) through the rocky desert canyon. You'll be traversing boulders, gaining quite a bit of elevation, and most likely spotting some wildlife in their natural habitat. At the peak of your journey, the views of the Coachella Valley are spectacular. The park asks that all individuals heading out on this trail, be prepared with enough water and appropriate gear.
For some, the idea of feeding a giraffe by hand crosses an item off of their bucket list. At the Living Desert Zoo, let the dream become a reality. Don't forget to snag that selfie!
The Australian Adventures exhibit gives you a glimpse into the wildlife of the land down under. There are many similarities to the climate of the Californian and Australian deserts, so these animals feel right at home here. Expect to see wallabies, budgies, cockatiels, and many retile species.
You don't have to be a kid to appreciate a great model train exhibit. At The Living Desert Zoo the G-scale model train layout is one of the most impressive in the country with 3,300 feet of track on almost an acre of land. Take a moment to watch the bustling landscape and mini train line come to life.
If you'd like to take in the Living Desert Zoo and Gardens in a much more leisurely manner, sign up for the "Private Safari Tour." You'll be chauffeured in the open air shuttle car for spectacular views of all the major exhibits. Thankfully, the tour guide is also an expert about the zoo, offering up animals facts, historical info, and even a bit of entertainment. These tours fill up fast, so book as soon as possible.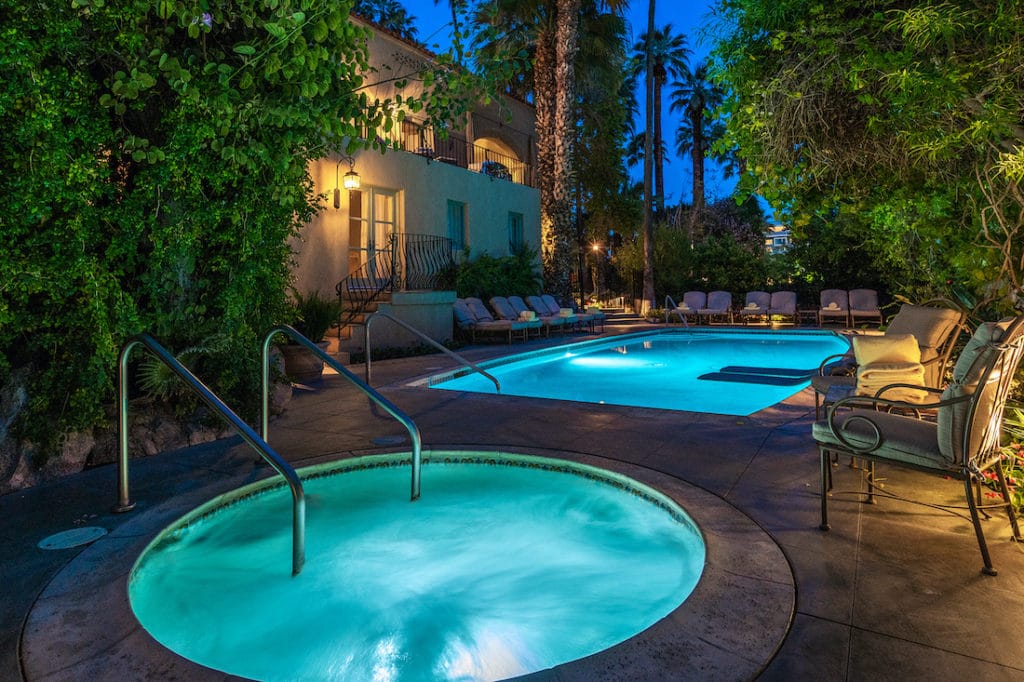 Retreat to Absolute Luxury at The Willows Historical Inn
After a hot day exploring the plants and animals of the desert, heading back to our Palm Springs Boutique Hotel will feel like entering into paradise. The pool and refreshing iced tea will be waiting for you. Enjoy our cushioned lounge chairs, plush towels, and shaded verandah perfect for those long afternoons soaking up the heat and cooling off in the pristine waters of our pool.
It's no wonder that our past guest ledger is filled with notable personalities, from brilliant scientists and former presidents to famous actors, actresses, and musicians, you'll understand why our Palm Springs Inn is a safe haven on your stay here. The staff is always unobtrusive, but available at a moment's notice. And the architecture of our romantic Mediterranean villa creates a sense of complete privacy and calm. Join us for an amazing getaway to Palm Springs!