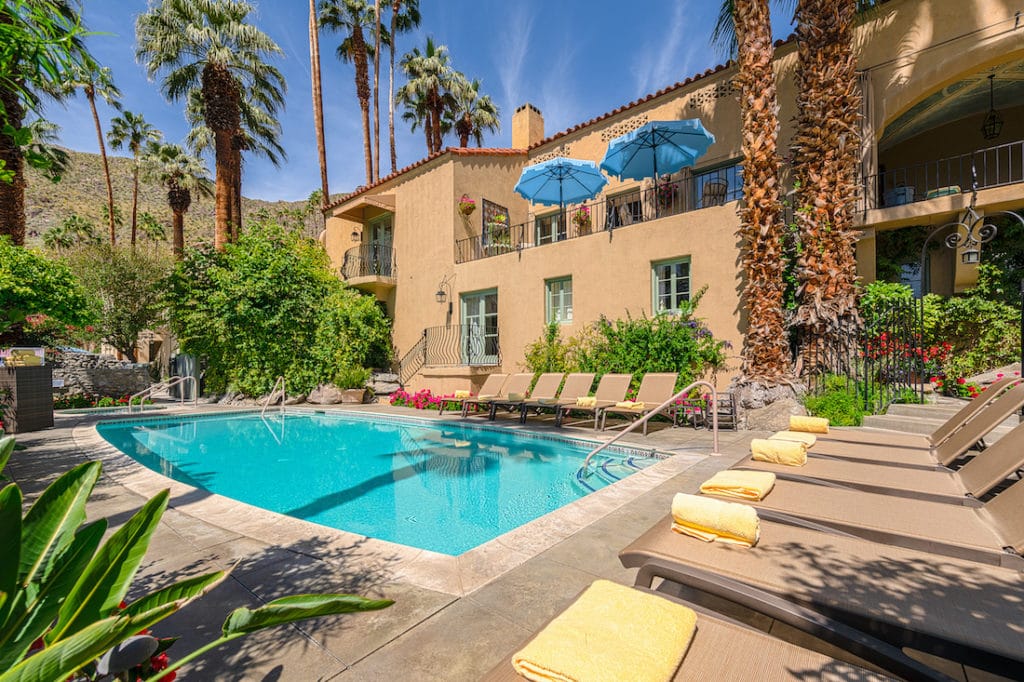 There's something extraordinary about lounging poolside at our luxury Palm Springs Hotel. It's quiet and private. You'll never have to wait or worry that there won't be enough chairs or towels. You'll bask in the sunshine and serene ambiance, away from it all and soaking up the relaxation. One of the best things about our luxury Palm Springs Hotel is that it isn't like a traditional hotel at all; it's a 1925 historical and majestic home built to mirror a Mediterranean villa.
The Willows comes with a rich history, full of tales from the golden age of Hollywood, visits from political leaders, and some of the greatest minds of our time. With only 17 private suites, we open our doors from September to May, welcoming a select group to add their name to the star-studded guest list. Staying at our luxury Palm Springs Hotel has the feel of an exclusive hideaway, and for many of our guests, we are the destination.
Start planning your next magical getaway to Palm Springs and book your next stay today!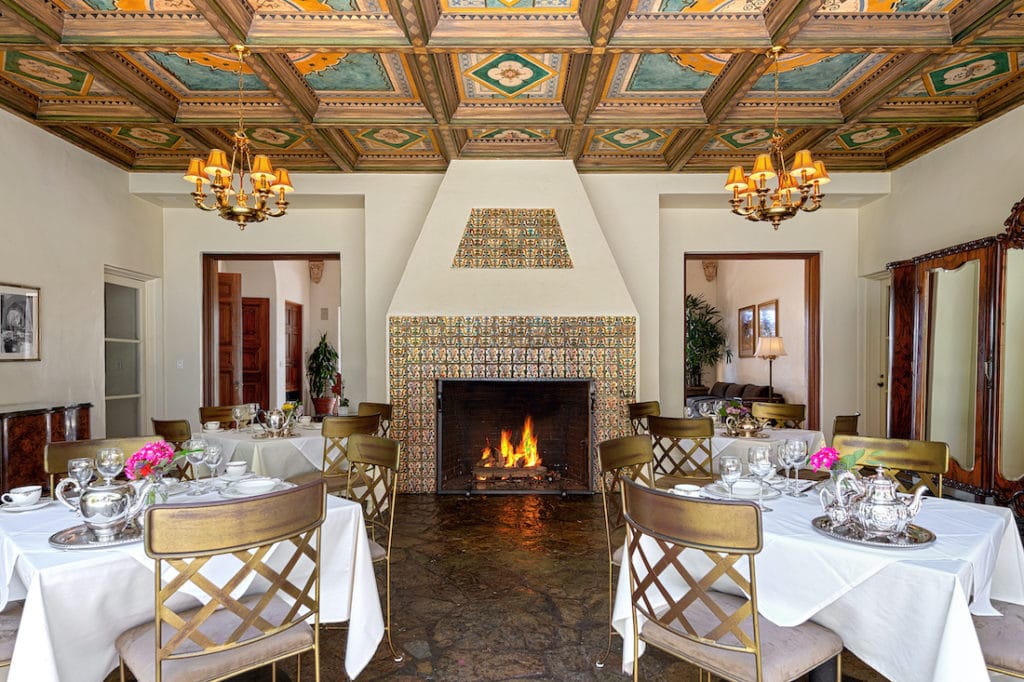 Opulence and Comfort at our Luxury Palm Springs Hotel
No detail at our luxury Palm Springs Hotel is overlooked. From the minute you arrive, the elegant atmosphere will sweep you off your feet. After you've settled into your lovely guest suite, you choose your own adventure: Relax by the pool? Stroll the garden grounds with stunning desert views? Or head into nearby downtown Palms Springs to wine and dine the night away? As a guest at the Willows, there's no wrong way to spend your time.
Here are eight reasons why our Luxury Palms Springs Hotel is one of the best places to stay:
Location: The Willows is the ideal location for a vacation with both relaxation and exploring in mind. At the Inn, you'll be tucked away from the hustle and bustle of downtown Palm Springs, but also be just a matter of minutes from the best restaurants, shopping, and popular attractions.
Privacy: Your privacy matters to us. Our warm and discreet staff is available at request. As always, we pride ourselves on creating a space for everyone to feel completely at ease.
Breakfast: Each morning, we'll treat you to a beautiful breakfast buffet. We offer a seasonal menu that changes daily with organic and local ingredients whenever possible. Choices include healthful lighter fare, as well as decadent options depending on how you'd like to start your day.
Elegant Suites: Our 17 guest suites vary in size and design, but each is tailored to a relaxing stay. In every room, there are antique appointments, comfortable seating areas, stunning and stylish en suite bathrooms, high-end mattresses, and fine linens. Some suites have cozy fireplaces and balconies overlooking the lush tropical paradise of our estate.
Excellent Amenities: Of course, our luxury Palm Springs Hotel offers a host of amenities, all included with the price of your stay. From basics like free parking and wifi to full concierge service and our evening wine and snacks reception.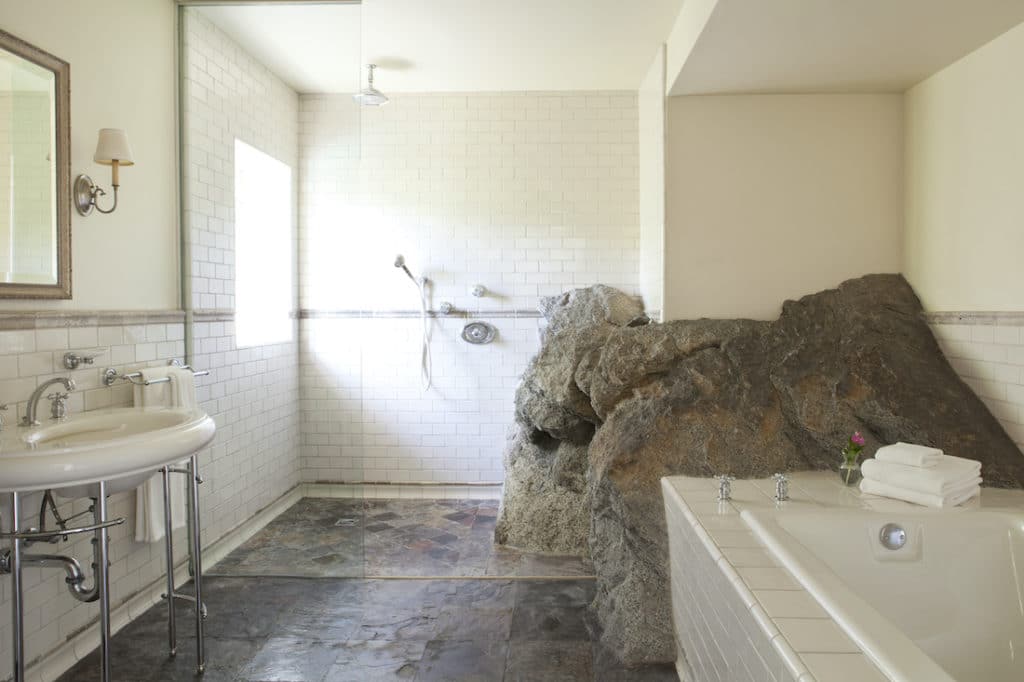 Architectural Details: The Rock Room (pictured above) is always a conversation starter; even The New York Times featured the bathroom in a July 1999 issue for its innovation and design. Mid-century modern architecture was sweeping Palm Springs when the Willows was built; in that vein, they chose to incorporate this large boulder into the design rather than dispose of it.
Heated Pool and Hot Tub: One of the best places to spend your mornings, afternoons, or evenings is lounging poolside at our luxury Palm Springs Hotel. There's nothing like taking a refreshing dip, sitting back on our comfy padded chairs, sipping iced tea, and soaking up the desert heat.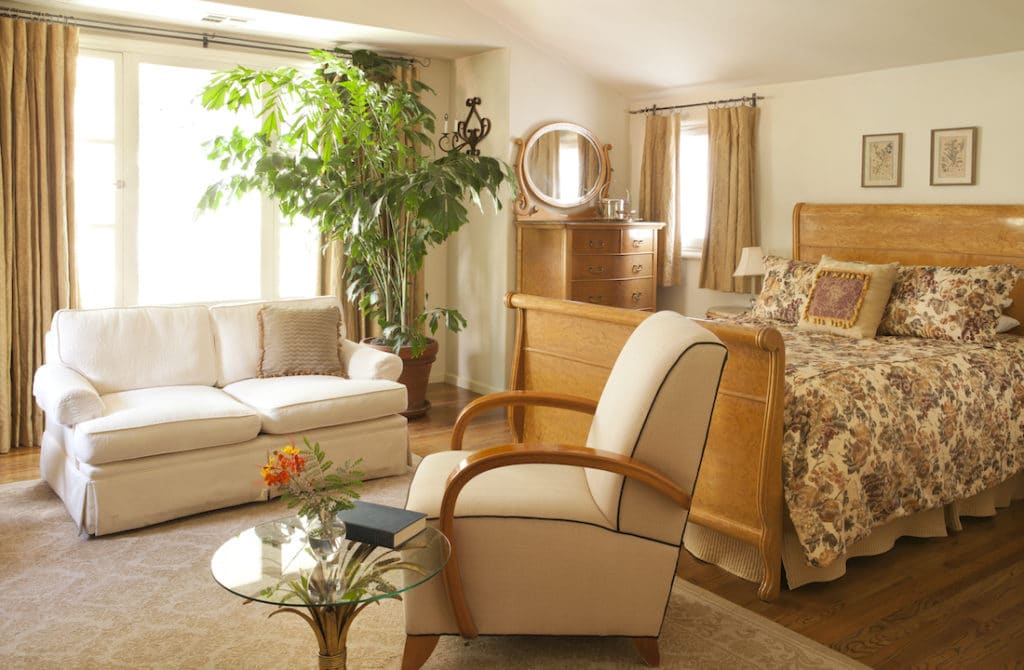 Bask in the Beauty of Palm Springs at the Willows
There is nowhere else in the world like our historic and luxury Palm Springs hotel. From the opulent appointments, luxury amenities, and unique architectural details to our unobtrusive and warm hospitality and healthful breakfast service each morning, you'll be delighted in our slice of paradise. Our elegant guest suites are serene and quiet, all equipped with spa-like bathrooms, luscious amenities, and stunning views of the Coachella Valley.
As a guest at The Willows, you'll add your name to one of the most impressive lists of past travelers who have graced our garden grounds and elegant halls. One of the world's greatest minds, Albert Einstien, would frequent this space and found it a peaceful place to think. In fact, his favorite bench for gazing out over the desert still sits on the hill above the Willows. Join us for your next luxury vacation and get your dates on the books!