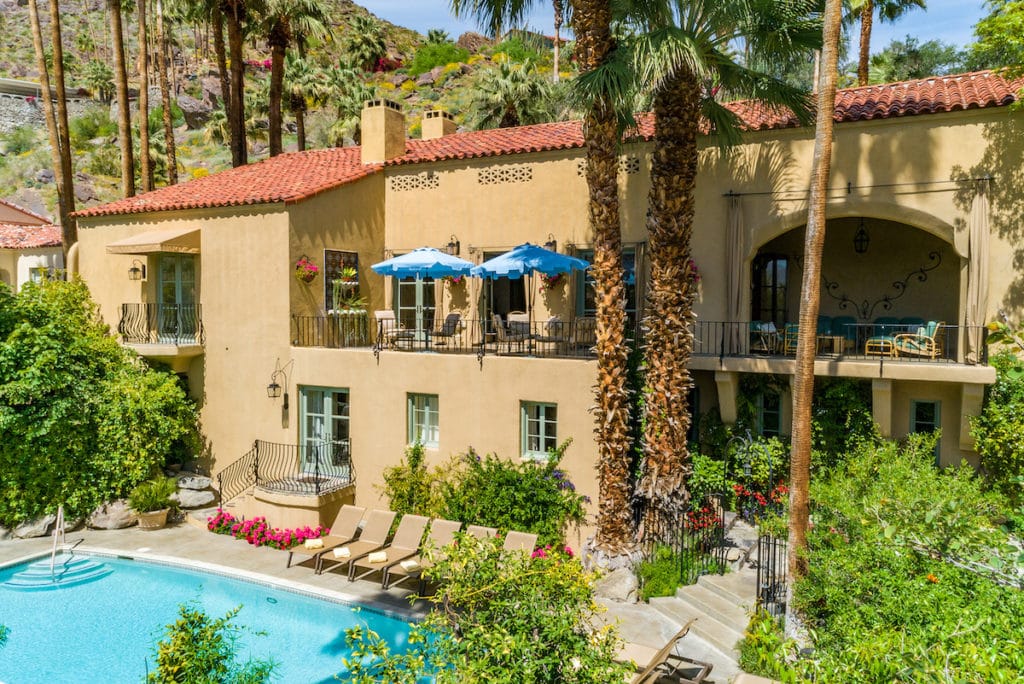 There's no better time to start planning your fall getaway than right now, and our luxury Palm Springs Hotel is the ultimate spot for a secluded and special trip to our beautiful desert town. Palm Springs is a popular retreat for those chasing warmth and sunshine, as the cooler climate months approach in other parts of the world. Our luxury Palm Springs Hotel has all the amenities to fully enjoy this dry, desert heat.
The Willows Historic Palm Springs Inn has hosted an array of clientele over the years. From famous Hollywood stars, former Presidents, and Albert Einstein himself, the guest list at our luxury Palm Springs Hotel is impressive. Though every person who walks through these doors is treated with the warmest hospitality and respect. Every guest here is a VIP. We pride ourselves on impeccable, unobtrusive service, and aim to fulfill any request possible.
Our 17 guest suites exude calm, each with its own charm and details. All are equipped with luscious linens, fluffy towels, and plush robes. You'll love to sit back and relax on your pillow top bed or on a comfortable chair in front of the fire. These are the best spaces to curl up with your favorite book or show on the flat screens. You may end up spending more time than planned in the classic comfort of your suite!
We absolutely can't wait to host you. Start planning your fall getaway to our luxury Palm Springs Hotel today!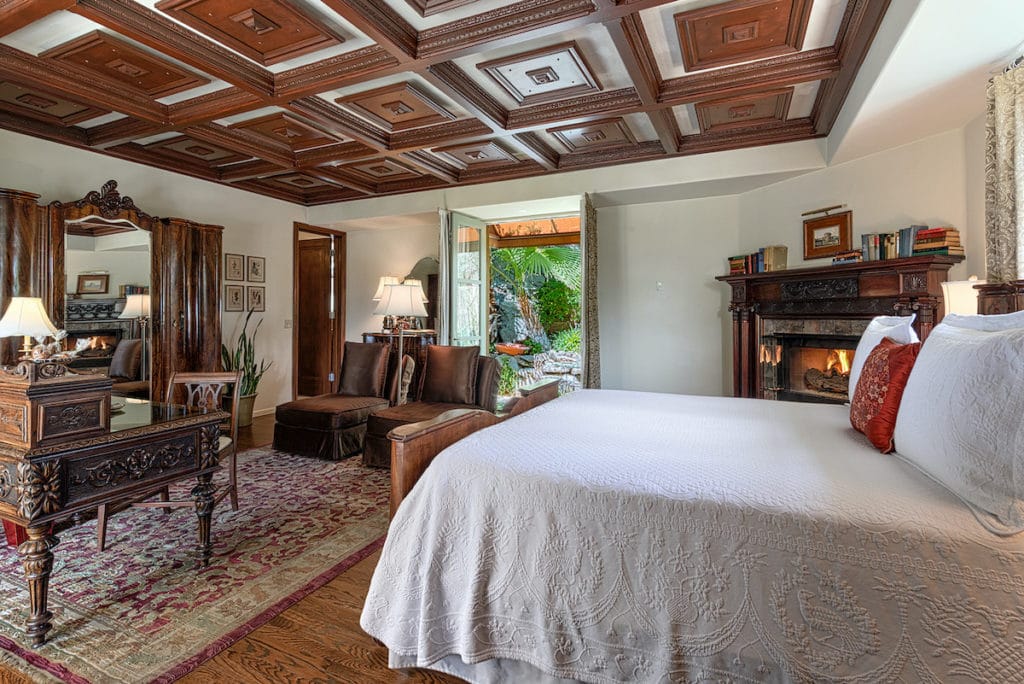 Our Luxury Palm Springs Hotel is Perfect for Fall
The temperature in Palm Spring during the Autumn months is perfect pool weather. The cool breeze in the evenings makes al fresco dining a must and our stunning garden grounds offer ample shady spots to enjoy your morning coffee or an afternoon spritz. There's really no better place for a fall getaway than our luxury Palm Springs Hotel.
Here are 10 reasons to book your room at The Willows Historic Palm Springs Inn:
Our luxury Palm Springs Hotel is a well-known landmark and has the prestigious designation as a "Class 1" historic building. It's also one of the ten oldest structures in the area, which creates a natural old world ambiance that you won't find just anywhere in Palm Springs.
The architecture of our stately Mediterranean villa fits perfectly into the landscape of Palm Springs. The opulent touches and attention to detail creates an amazing ambience for relaxation. You'll find special elements like our Spanish tiled fountain on the terrace or our stunning 50-foot cascading waterfall among lush terraced gardens.
The panoramic view of the Coachella Valley stretches out before you at our luxury Palm Springs Hotel. It's a vista you won't soon forget, especially at sunset. You won't want to miss the natural light show as the sun slips behind the mountains.
While our location is ideal for a private and secluded getaway, our luxury Palm Springs Hotel is only a matter of minutes from attractions like the Palm Springs Art Museum, amazing mid-century modern architectural tours, and some of the best dining destinations. Allow us to help set up any restaurant reservations or recommendations.
There's a lot to do in Palm Springs, but your guest suite at our luxury Palms Springs Hotel might be hard to leave behind. Each of our 17 rooms has unique features and tasteful decor, while equipped with high end amenities and modern elements.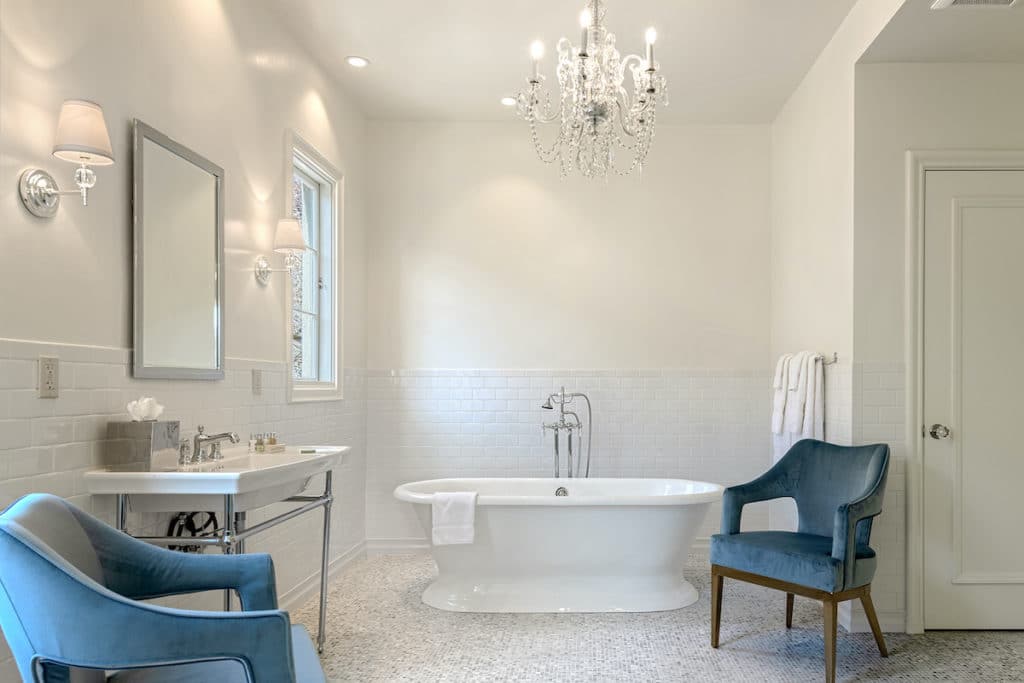 Our attention to detail continues into our elegant bathrooms in each of our guest suites. Some include deep clawfoot baths with separate rain showers, while others offer double soaking tubs. You've never seen a more unusual architectural element than in the Rock Room where a natural boulder protrudes into the shower for a particularly unique experience.
The pool and jacuzzi area is a favorite space among guests. Poolside beverages and snacks are encouraged, with complimentary towels and lounge chairs provided. Whether you prefer sun or shade, you'll find a great spot at our outdoor pool terrace.
Each beautiful morning of your stay, a multi-coursed home prepared breakfast will be provided for our guests. We pride ourselves in using the most seasonal and organic ingredients. You can enjoy your morning meal on the terrace overlooking the stunning waterfall and gardens or in the privacy of your own suite.
We also love to invite our guests to join us for an evening happy hour of wine and snacks. This is the perfect spot to start your evening, before heading out on the town for dinner and drinks.
Our staff is highly trained in hospitality matters, friendly, and unobtrusive to your stay. We're happy to accommodate requests and needs to the best of our ability. Our guests' privacy is of the utmost importance to us and our luxury Palm Springs Hotel is secluded in all of the best ways.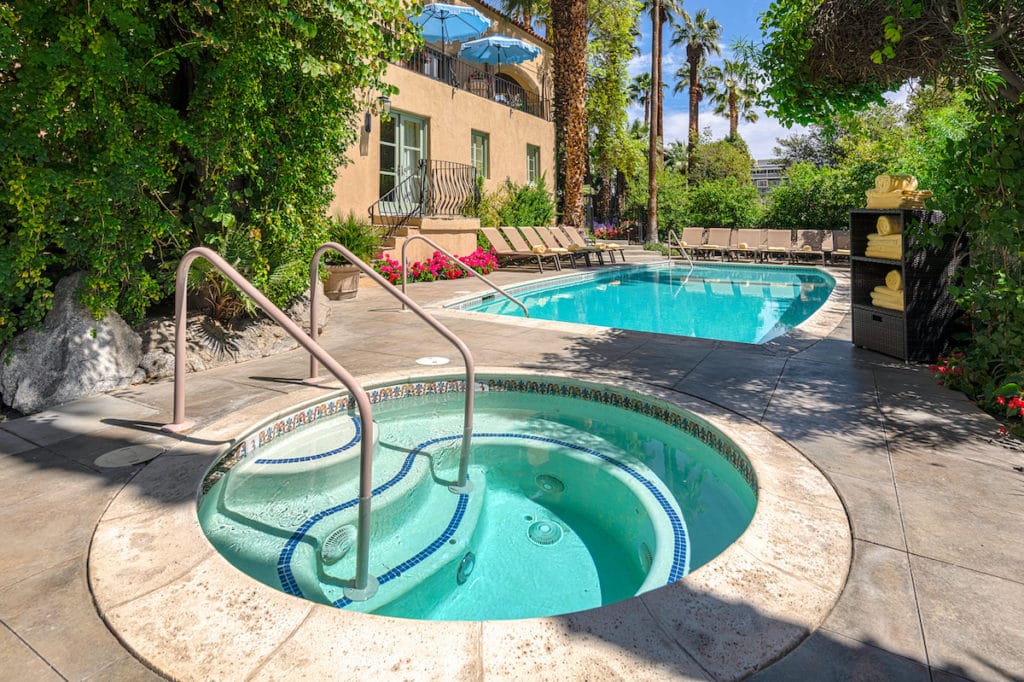 Soak Up the Sun at Our Luxury Palm Springs Hotel
After this particularly long year we've all experienced together, treating yourself for a special getaway to Palm Springs is even more important than ever. Allow us to help you achieve full relaxation to reset and unwind in this beautiful part of the country. Whether you'd like to spend your days sunning by our pristine pool, relaxing in your private guest suite, or leisurely exploring the Palm Springs Art Museum, a vacation here can be anything you want.
We can't wait to reopen our doors at The Willows Historic Palm Springs Inn come September. After the heat of summer has subsided our luxury Palms Springs Hotel is the ideal spot for an autumn getaway to the desert. Now's the time to get your next vacation on the calendar. Book your stay today!