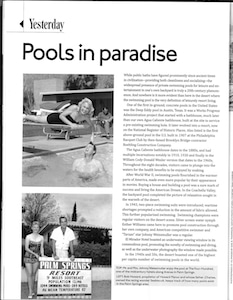 While public baths have figured prominently since ancient times in civilization-providing both cleanliness and socializing-the widespread presence of private swimming pools for leisure and entertainment in one's own backyard is truly a 20th century phenomenon. And nowhere is it more evident than here in the desert where the swimming pool is the very definition of leisurely resort living.
One of the first in-ground, concrete pools in the United States was the Deep Eddy pool in Austin, Texas. It was a Works Progress Administration project that started with a bathhouse, much later than our own Agua Caliente bathhouse, built at the site to service a pre-existing swimming hole. It later evolved into a resort, now on the National Register of Historic Places. Also listed is the first above-ground pool in the U.S. built in 1907 at the Philadelphia Racquet Club by then-famed Brooklyn Bridge-contractor Roebling Construction Company.
The Agua Caliente bathhouse dates to the 1880s, and had multiple incarnations notably in 1910, 1930 and finally in the William Cody-Donald Wexler version that dates to the 1960s. Throughout the eight decades, visitors came to plunge into the waters for the health benefits to be enjoyed by soaking.
After World War II, swimming pools flourished in the warmer parts of America, made even more popular by their appearance in movies. Buying a house and building a pool was a sure mark of success and living the American Dream. In the Coachella Valley, the backyard pool completed the picture of relaxation sought in the warmth of the desert.
View full article…