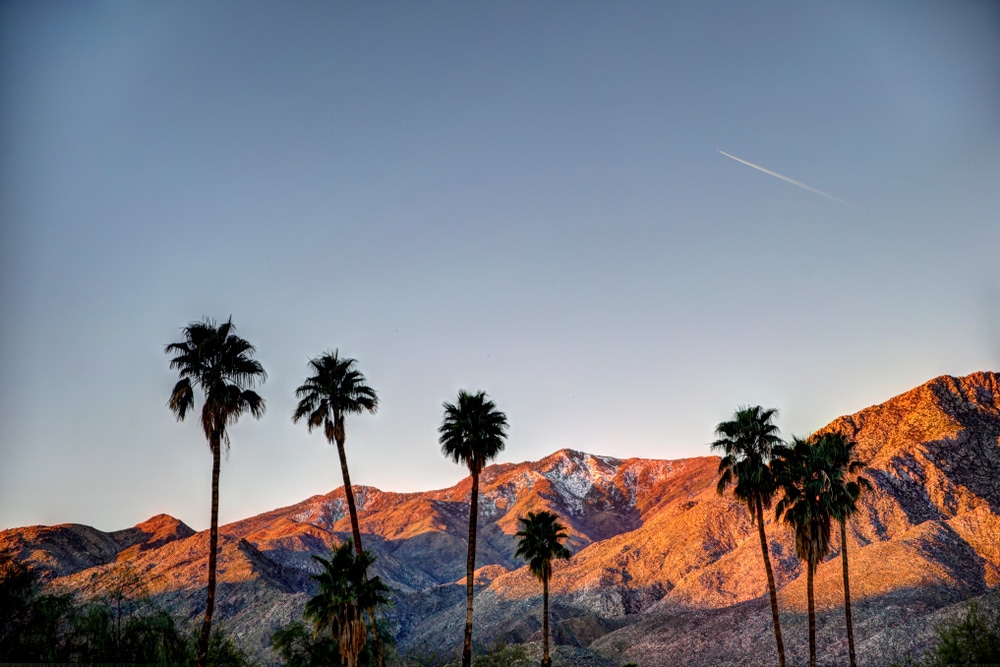 There's no doubt that it's been difficult in California over this past year, with so many shutdowns and closures/limited openings of restaurants, attractions, hotels, wineries, and more. If for no other reason than just to get away for a change of scenery, this is the year that you definitely deserve a weekend in Palm Springs!  There's no place better equipped to help you enjoy a relaxing weekend in Palm springs than our luxury boutique hotel.
The weather is perfect this spring, with daytime temperatures topping out in the mid-upper 70s for the time being. It will start to get much hotter by May, but in the meantime, there's plenty of time to escape for a weekend in Palm Springs. Enjoy dining out al fresco on the open patios, grab takeout and enjoy it at our hotel, shop until you drop in downtown Palm Springs, pamper yourself with some restorative spa treatments, or otherwise relax and unwind in the cool desert oasis that is Palm Springs. If that sounds like something you need, then it's time to book your room at The best hotel in Palm Springs, the Willows Historic Palm Springs Inn.

How to Plan the Best Weekend in Palm Springs
Palm Springs has long been a favorite weekend playground for Hollywood Elites and other Captains of Industry, seeking to getaway to the fun and relaxed environment of this desert paradise. Whether you'd prefer to while away the day lounging poolside amidst our lush terraced gardens or go out exploring the vibrant downtown of Palm Springs, there really is something for everyone here.  There's far more to Palm Springs than pool parties and bar hopping, though.
Palm Springs is an incredible destination, with world-class attractions like the Palm Springs Aerial Tramway, the Palm Springs Art Museum, and Joshua Tree National Park, just to name a few. Moreover, it's one of the best places in California, if not the country, to just sit back and relax. Angelenos escaping the hectic pace of their lives, after all, is what gave Palm Springs its start all those years ago. Whatever it is you like to do on getaways, here are some of our favorite ways to enjoy a fun yet relaxing weekend in Palm Springs.
Eat and drink to your heart's content.  There are so many incredible restaurants and outdoor patios on which to enjoy your favorite cocktail or glass of wine. Kicking back with good food and drink really is one of the best parts about Palm Springs. You can read an updated list of some of our favorite Palm Springs restaurants for 2021 here.
Admire the art and architecture of Palm Springs.  Start with a visit to the Palm Springs Art Museum once it reopens this spring, but don't miss the Architecture and Design Center, the plethora of art galleries downtown, and even the public art installations or exquisite midcentury modern architecture that you'll spot around town.
Carve out the time to visit Joshua Tree National Park, even if just for a day.  It's easily reachable from our Palm Springs Hotel.  In fact, we've put together an itinerary of some of the highlights that you can see in a day.
Hiking through the clean desert air can be a surprisingly restorative activity, and spring is a great time to do it.  There are plenty of wonderful hiking trails in Palm Springs, but if you aren't up for a sweaty adventure, we recommend you head to the top of the Palm Springs Aerial Tramway to walk around instead.
Go wine tasting in Temecula!  It's not too far away, and there are tours that will pick you up, drive you to wineries in Temecula, and then drop you back in Palm Springs in the evening.
Where to Stay in Palm Springs
Of course, any great weekend in Palm Springs starts and ends at our luxurious boutique hotel.  Here, you're welcome to lounge poolside throughout the day, meander through our lush, terraced gardens, and otherwise enjoy this immaculate hideaway.
Each of our 17 guest rooms is uniquely and tastefully decorated. Among the standard amenities, you'll find at our Palm Springs Hotel are luxurious linens, plush robes and sumptuous towels, flat-panel televisions, DVD players, clock radios, high-speed Internet access, minibars, refrigerators, and individual room climate control. Some guest rooms include things like private balconies and terraces, oversized tiled showers, and an incredible selection of antiques. No two of our guest rooms are alike, which is just one more reason we're anything but a standard hotel!
Make your weekend in Palm Springs truly the best getaway it can be, and book a room at the Willows Historic Palm Springs Inn.  There's truly no other Palm Springs hotel quite like it, and you'll feel it from the moment you arrive.